Optimising Monetization of Mobile Apps and Games by Ad Networks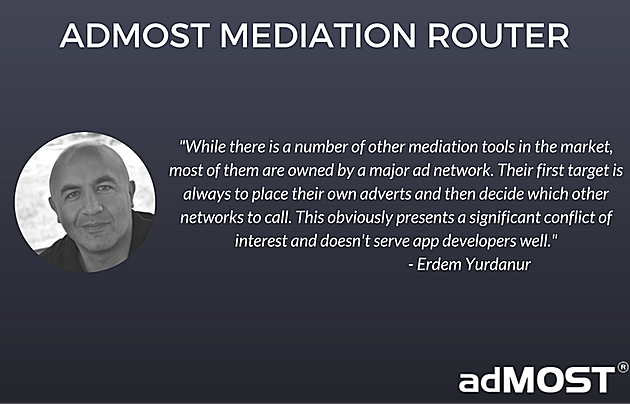 There are millions of mobile apps and games in Apple Market and Google Play. In most cases, the app developers aim to generate revenue via in-app purchases or from a range of mobile advertising formats (banners, natives, interstitials and rewarded videos).
In this article we address how Admost Mediation Router has helped two very different clients significantly improve their advertising revenues.
Firstly, let's discuss Mackolik, Turkey's leading sports app with over 5M daily active users. Mackolik was acquired by Perform Group in 2015 for $80m. The vast majority of Mackolik's revenue is delivered via network advertising, and an important rationale behind Perform's acquisition was improving both advertising yield and revenue. To facilitate this revenue growth Perform selected London based Admost, which has proven to be a very good choice.
Commenting on Mackolik's deal with Admost, Emre Ugurlu, MD Turkey and East Europe for Perform Group says,
Admost has grown our app advertising revenue by over 250% in the last 2 years thanks to this market-leading platform.
Secondly, Admost started working with London based mobile gaming start-up, Masomo, in Q3 2016. Masomo had developed a leading multi-player live football game called Online Head Ball that started to climb the App Store charts in Q1, 2016. Masomo had a dilemma like many games companies; whether to stick with a purely in-app revenue model or to combine this with a mix of unobtrusive advertising. Initially following launch, Masomo attempted to manage multiple advertising partners in-house, which proved time consuming and delivered mixed results.
Having reviewed the market for high-yielding ad solutions, Masomo appointed Admost and the results have been very positive:
– Admost generated advertising accounts for 60% of all revenue for Online Head Ball (up from 25%)

– Advertising revenue has increased by over 300%
Oliver Slipper, CEO of Masomo, said:
Admost has transformed our advertising revenue line. Online Head Ball has a very diverse geographic spread of users, so the ability to dynamically and in real-time, optimise the yield by ad type in every country has been a big positive for us. Aligned with this, we have been able to focus all our energy and time on product development and marketing with Admost taking complete care of advertising for us.
Admost's key features are outlined below:
Developers embed Admost's SDK in their apps and can connect to 20+ ad networks with a single integration.
Every day Admost's SDK calculates the best available eCPM by ad type in every country in the world. From here a 'waterfall' is created by ad type, by ad network and by country.
When a user opens an Admost partner app, an automatically calculated waterfall is downloaded into the app.
Admost's SDK routes the app's ad requests to the most profitable ad networks by using the waterfall.
App developers do not need to do anything manually.
Admost will increase mobile app advertising revenue by 50% to 300% depending on the geographical spread of the app's users.
Admost is free for the first two months. Developers pay Admost a commission on their total ad revenue after the trial period if they are happy with the increase and the service.
Developers can cancel their contract at any time.
All monies are paid directly to the developers by the ad networks with Admost invoicing the the developers for its commission.
Speaking about this exciting new ad tech startup, Admost founder and managing director, Erdem Yurdanur said:
While there is a number of other mediation tools in the market, most of them are owned by a major ad network. Their first target is always to place their own adverts and then decide which other networks to call. This obviously presents a significant conflict of interest and doesn't serve app developers well.

Additionally, other mediation systems use manually entered ecpm rates or imported ecpm values, which leads to inaccurate ecpm data and waterfalls. Calculating accurate waterfalls is the key success factor for mediation tools.

We've spent 2 years developing Admost and have built a very powerful platform that delivers immediate and meaningful revenue uplift for app developers.